AZQ Android - WCDMA/GSM DriveTest Tool on Android
AZQ is a 3-in-1 Radio Network Test Solution for GSM, WCDMA and now starting LTE:
1. TEST on Android - Live DriveTest-grade radio parameters and L3 messages display on compatible low-cost, off-the-shelf phones.
2. GET REPORTS ON WEB IN MINUTES! KPIs and all essential Radio Parameters' coverage plot on MAPINFO maps - ready in Excel files - waiting to be copy/pasted into your DriveTest report. You also get Google Earth KML and csv export for the custom work you may need.
3. ANALYZE Layer-3 Messages - Call Drop/Block Analysis? Select and download logs from web then analyze with our AZQ Replay Software.
TRY IT NOW! Please email <azqhelp[at]gmail.com> for trial units, license details and more info.
NOTE: Due to high demands, we might not be able to offer certain customization services at the moment, and might be slower to respond to your queries. Thanks for your patience!
---
News (August 2013) - Now providing live L3 on Android! Now supporting Sony Xperia SP (C6603), Sony Xperia Tipo single-sim (ST21i). Below are some live L3 on the low-cost HTC Explorer: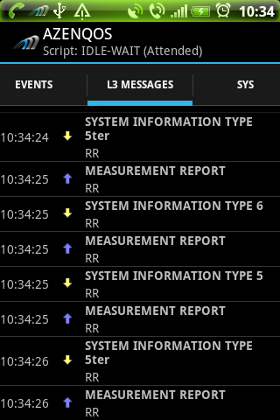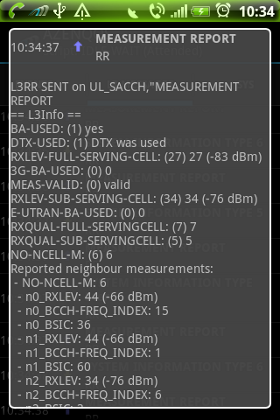 News (June 2013) - Now supporting SONY XPERIA V (LT25i), Google Nexus 4 (LG), and more. Please contact us for the full list.
---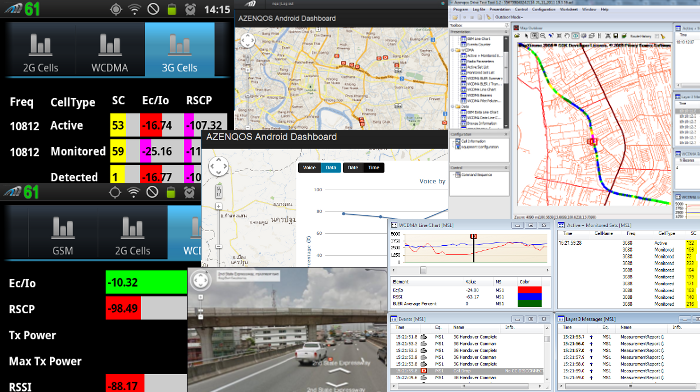 Locate problem areas, get reports, dashboards and ALSO ANALYZE WHY THE PROBLEMS HAPPEN - WITH DRIVETEST-GRADE DATA like Ec/Io, RSCP, RSRP, RSRQ, RxLevel, RxQual, C/I and also Layer-3 Messages replay.
The routine testing and KPI teams finally have a cost-effective solution that provides deep radio parameters, Layer 3 messages in the logs ("evidence") TO HELP THE NETWORK ENGINEERS TO REPLAY, ANALYZE AND FIX THE PROBLEMS: (Call Drops, Call Blocks, internet data speeds, coverage…
3G/WCDMA: Ec/Io, RSCP, RSSI, PSC, CQI ActiveSet, MonitoredSet, DetectedSet, BLER, TxPower, HSDPA CQI, RLC Throughput and more.
2G/GSM: RxLev, RxQual, C/I, TxPower, ARFCN, C1, C2, Serving Cell measurements, Neighbor Cell Measurements and more.
Layer-3 Messages - Essential parts of GSM RR, WCDMA RRC, CC, MM can be viewed and analyzed in our replay software. Note: LTE L3 is not available yet.
4G/LTE: RSRP, SINR, RSRQ, RSSI, PCI, EARFCN.
Please note that AZQ does NOT support cell-locking (ARFCN, PSC) - but you can still use AZQ for routine coverage plots and KPI reports - saving you much valuable time and costs.
How AZQ helps radio network testing teams?
AZQ helps save the engineer's time for most routine KPI testing, indoor testing and report generation work - AZQ automates most of the time consuming work - generating excel reports (with parameter-on-map plot screenshots) and Google Earth KMLs - automatically in minutes at the server after the auto-upload from phone.
Additionally, AZQ also provide a Replay tool for the Engineers to analyze the problematic logs donwloaded from server. This way, expert engineers can spend less time on the common cases and spend more time on more advanced, real time analysis cases where common PC-based tools also Scanners are really required on-site.
Run test scripts on mobile
Run tests on a HUGE NUMBER OF PHONES (compatible cost-effective phones)
Supported tests include Voice Calls, FTP Download, FTP Upload, HTTP Download, HTTP Browse, SMS, MMS.
In-car mode: auto start tests when powered by car-charger, auto upload, auto boot.
Scheduled mode: schedule tests from the central server.
Manual mode: start tests by hand from app - also supports Indoor map-marking.
Live WCDMA and GSM Radio Parameters are also displayed on phone.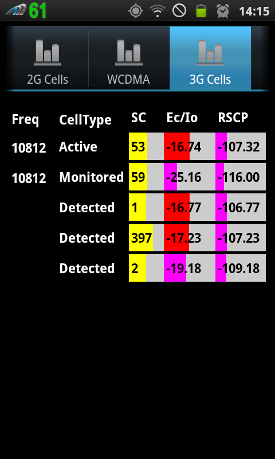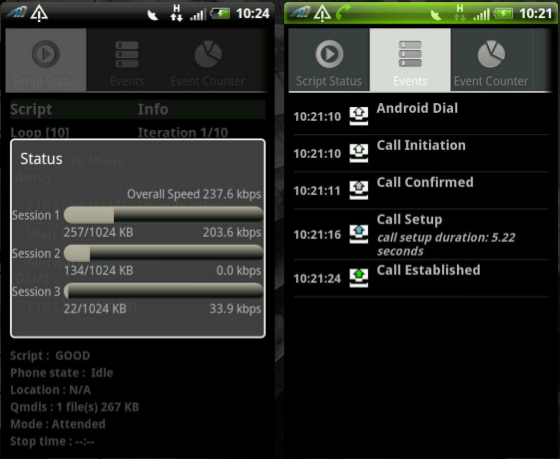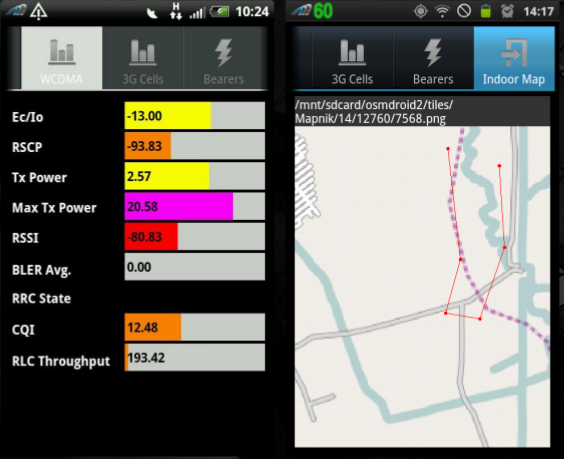 Get the logs on the web
Test logs are (automatically) uploaded to the central server
See the big picture: Heat maps, Dashboards, Trend graphs
Immediately see repetitive Call Drop, Call Block points on map
Extensive search functions: Search by tags, area, date, problem type, unit groups, etc.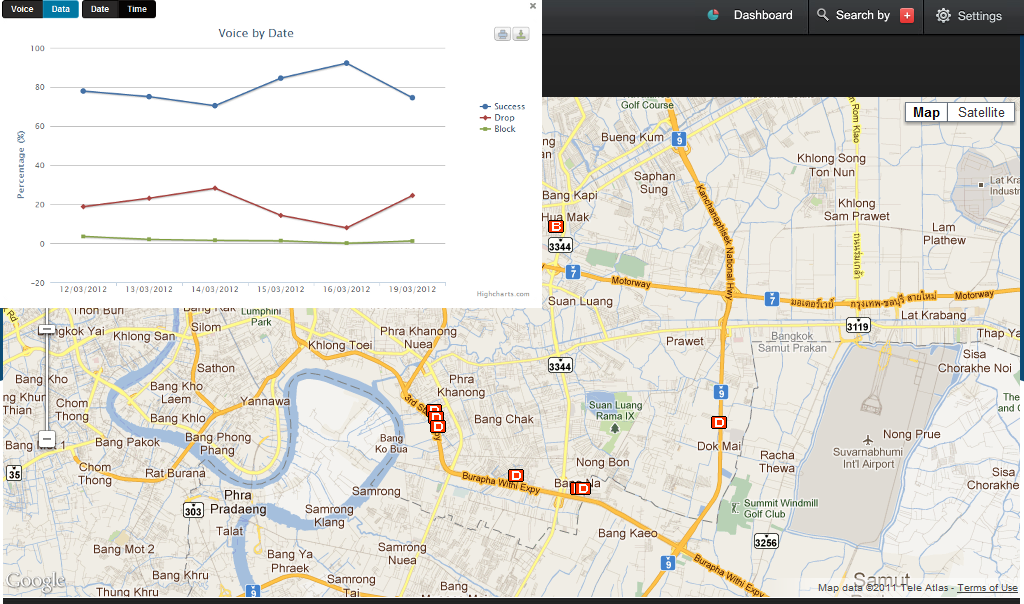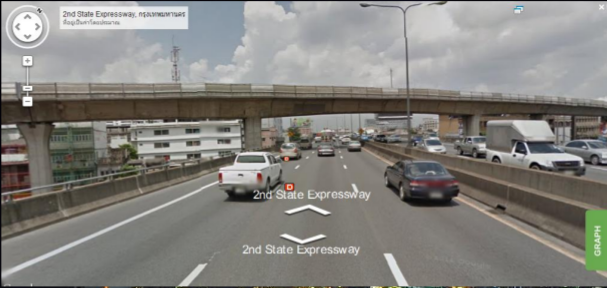 Download logs and analyze the problems
Analyze call drop, call blocks, coverage, interference and other network problems from log replay in our PC AZQ log analysis software - radio parameters and Layer-3 messages. New feature: WCDMA IntraFreq, InterFreq, InterRAT measurement events, and also ActiveSet addition/removal lists are extracted (from RRC Measurement Report) and shown in the Events window.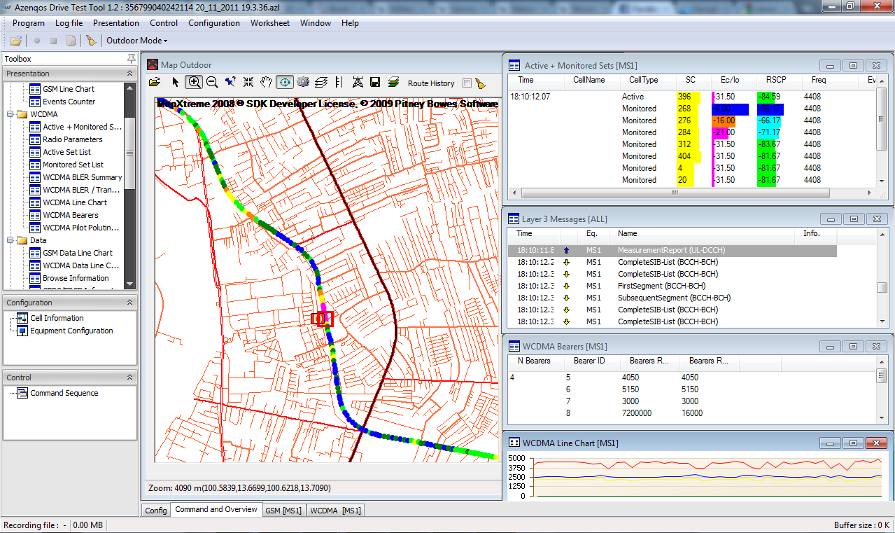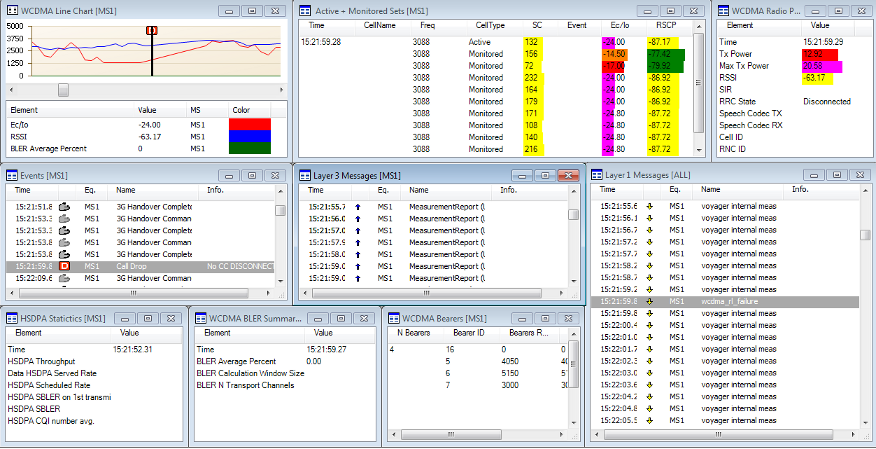 Generate MS Excel Reports, Export Logs to csv and KML
The server generates an excel report for each uploaded log. What about multiple log export? Yes we can! Just use the Replay software's "Export Log" feature to combine multiple logs, and export to Excel, CSV/TXT (for import to Mapinfo, Actix) and KML for playback in Google Earth. Ec/Io, RSCP, RxLevel, RxQual (and other values as choosen) overlay on Mapinfo/MapXtreme screenshots are automatically generated into the Excel reports.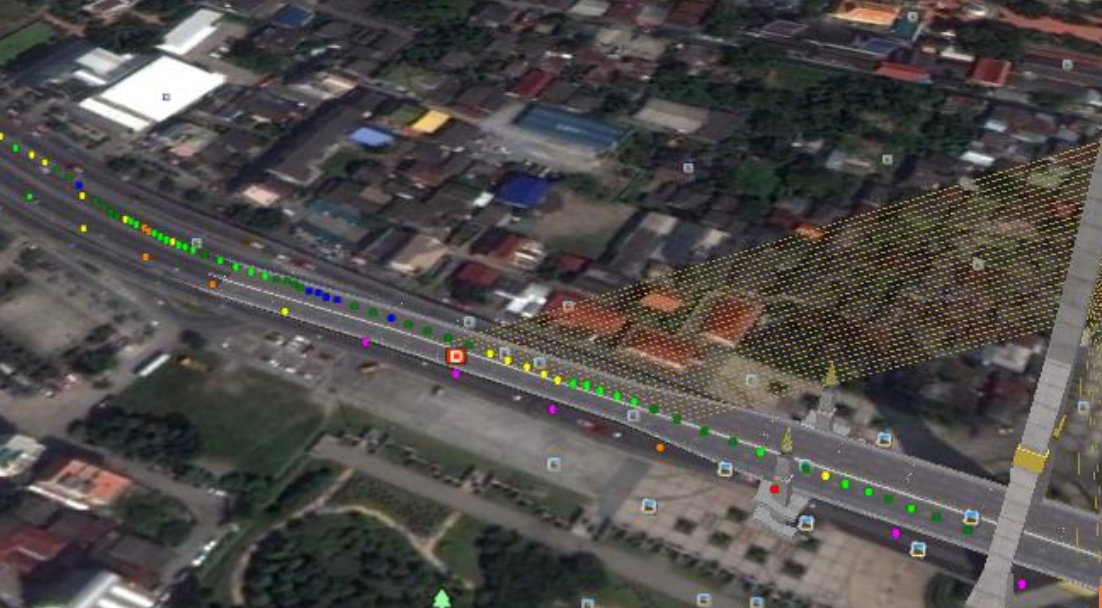 Call Blocks, Call Drops, Slow Internet, Data Connect Failures
Test, Locate and analyze the problems in your mobile network with AZQ Android - Pervasive, Powerful Network Optimization on everyday devices.
Features
AZQ Android turns your supported Android devices into a complete Voice, FTP, HTTP, Web Browsing and SMS test & analysis tool.

Run test automatically in vehicles, manually by engineers or even run passively* and collect data in the background.

AZQ Android can run on wide range of devices from leading manufacturers, we now support HTC Rhyme, Samsung Galaxy Ace (aka Cooper) and Mini among others which are to be tested and confirmed per case.

Deep Data Collection - AZQ Android logs all important events, failures, radio measurements and even Layer-3 messages directly from the Qualcomm radio chip - bypassing the "Android App" layer - this makes Azenqos very different from most "apps" on the market - much more detailed, deep and accurate data. Deep enough to analze the technical engineering-level problems via our Replay and analysis software.

Get Logs and Reports From The Central Server - All test logs are uploaded to the central server (to be hosted by us or installed in your network), which provides a high level dashboard, shows problem points on map, generates reports KPI reports, RxLevel or Ec/Io overlay on maps, etc in Microsoft Excel format.

Analyze Problematic Logs Via Replay - For further analysis of specific problems collected. The specific test log can be downloaded for analysis and replayed via our PC analysis software.

All you need for deeper analysis - Radio parameters, Layer 3 messages and events are available:

3G/WCDMA: Ec/Io, RSCP, RSSI, PSC, ActiveSet, MonitoredSet, DetectedSet, BLER, TxPower, HSDPA CQI, RLC Throughput and more.
2G/GSM: RxLev, RxQual, C/I, TxPower, ARFCN, C1, C2, Serving Cell measurements, Neighbor Cell Measurements and more.
Layer-3 Messages - Essential parts of GSM RR, WCDMA RRC, CC, MM can be viewed and analyzed in our replay software.
Composition
AZQ Android is a total solution with executive dashboard and log analysis tool already included, at an incredibly low price and with no additional purchase required - it consists of:

The AZQ Android application with deep chipset info retrieval on supported Qualcomm Android phones. It can start tests, show live radio measurements like

WCDMA: Ec/Io, ActiveSet, NeighborSet, DetectedSet, RLC Throughput, HSDPA CQI
GSM: RxLevel, RxQuality, C/I, Serving+Neighbor cells, ARFCN etc.
It also automatically uploads logs to the central server for report generating and log archiving for further download and replay on our PC-based replay & analysis software.

The AZQ Central Server (to be hosted by us or installed in your network) collects uploaded logs from deployed Android phones - it generates reports and also a dashboard and map of problem points like call drop and call blocks. It can also be used to make test scripts, schedule tests as well as monitor each deployed phone's status.

The AZQ Log Analysis and Replay software is used for further analysis of specific problem points shown in the central-server web-page. The problematic log can is downloaded to the PC and replayed with this software to analyze the deeper nature and cause of the problem - like call drop or call blocks. This replay software shows various analytic charts and lists like WCDMA Active/Monitored/Detected sets, Layer-3 messages, Ec/Io, TxPower, GSM RxLevel, RxQuality, RLT Current/Max, etc for locating the cause and solution to the problem.