AZQ Android - DriveTest Solution for LTE, WCDMA & GSM
Deep Radio Measurement Parameters and Layer-3 Message Signalling on Android
From Tests to Excel Reports - IN MINUTES INSTEAD OF HOURS OF MANUAL EXPORT AND PLOTTING!
Ideal for New Site Setup tests, In-building walk tests, Routine DriveTests and Reporting
---
Update: August 2017 Now supporting 4T4R (4 MIMO) and 256QAM Modulation statistics testing on Sony Xperia XZ: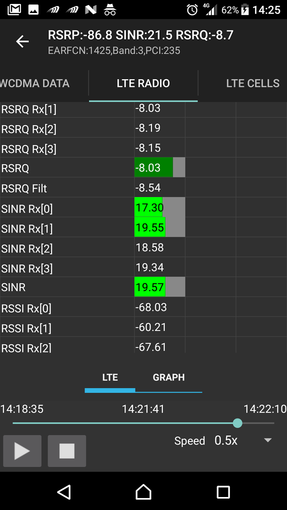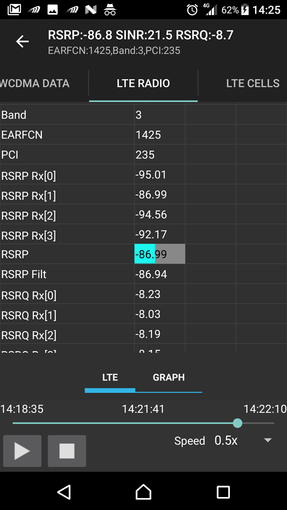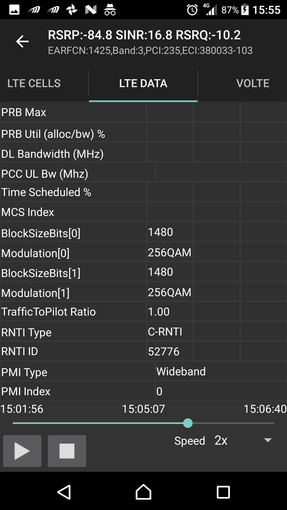 ---
Introduction to AZQ Android End-to-End Drivetest Solution
Advanced Locking Features on Samsung S5 - without restarts!
| | |
| --- | --- |
| | AZQ now supports the Samsung S5 (SM-G900F) with advanced locking/forcing/control features - as in Youtube video on the left. It includes LTE PCI Cell locking, EARFCN Locking, WCDMA PSC Stay, WCDMA UARFCN, GSM/WCDMA Band Lock and more. No restart required between locking operations! |
Now with VoLTE: live SIP Call Flow on Samsung S5 running AZQ Android
| | |
| --- | --- |
| | Analyze VoLTE call issues and statistics. This video shows how to access and analyze full unecrypted SIP messages (no IPSec, ESP) as well as LTE RRC messages live during the voice call - from a local off-the-shelf Samsung S5 (SM-G900F). |
TRY IT NOW!
Get started now! FREE 30 DAY TRIAL!
- We reserve the right to grant/deny trial requests - at our own discretion - based on your company/business information or other details submitted in the trial-request email.
- Due to recent big changes in our server software features/architecture/technology and the support thereof, we aplogize for the delay in responding to your trial-requests - we've now removed the old Trial-request-form and changed to the simpler email trial request method below:
Email us at support@azenqos.com using your corporate email address - requesting for a free trial, your expected phone model and, if possible, your expected use case so we can understand/help you better. Below is a list of the recommended phone models:

Sony Xperia XZ Premium (For 4MIMO and 256QAM testing)
Sony Xperia XZ
Google (LG) Nexus 5X (recommended)
Samsung A9 Pro
Samsung S8 China/Hong-Kong (Qualcomm version)
Samsung S7 (Qualcomm version)

Follow the installation instructions for your device

Once a license is granted for your phone's IMEI, you'd get an installation manual via email. Read the instructions well and follow closely until completion.
Activate the license online.

Try AZQ FOR 30 DAYS!
Like it? Buy it!

Email us your IMEI to upgrade to a Full License, we'd then provide the details to:
Pay via Bank Transfer or PayPal.
FREE 1-Year azq-web-reporting account service!
---
Get Excel reports with map-plots of radio parameters as well as KPI statistics - automatically generated from AZQ Server in about 5 minutes after log upload!

Get all the essential LTE, WCDMA and GSM Radio Parameters you need as well as Layer-3 Messages - live on AZQ Android phone and also further analyze them on PC with AZQ Replay software.
Email us at support@azenqos.com for more info.
Complete your mobile network test and maintenance tasks FAST and EASY with AZQ Android!
---